Planning a rock and roll themed nursery for your little guy (or gal)? There are so many cool and cute decor items that you can use to decorate your rock 'n' roll nursery from prints of guitars and music notes to fun music themed wall decals.
I've gathered up some of the best rock and roll themed nursery decor I could find to give you some great ideas for planning out your baby's perfect room.
Rock "N" Roll Nursery Wall Art
Wall art is one of the best ways to decorate a nursery. You can choose from sets of art prints that you can group into a cool collage on the wall or you can hang them separately to make the room look more cohesive throughout.
There are some art pieces that you can print yourself or have printed at a local photo store or you can choose from the art pieces that come to you in the mail printed and some even come framed as well.
This is a custom made wall art set that can be personalized with your baby's name as well. Each of the 4 prints measure 8×10 inches and they come unframed.
There is also the same print set available in white, black, and blue and you can always request a different color from the seller if you need it as well.
This is another great 4 piece wall art set perfect for a rock 'n' roll themed nursery. Each print is printed on high quality photo paper and comes to you unframed.
You can also request different colors if the blue doesn't go with your nursery color scheme. This set is nice put together on the wall as seen above or you can separate them and hang them in different spots in the room.
Decorate your future rock star's room with this cool art print that can be customized with his or her name. The print measures 8×10 inches and it does not come with the frame. You can choose your own frame to match the decor of the room.
This print is slightly different in that it is a digital file the you get emailed to you and then you can have it printed out at a photo store or you can print it out at home.
You can choose from several different colors for the guitar as well as the background so it fits your nursery theme perfectly.  You can also choose from different sizes for your print as well. It starts at 4×6 inches and goes up to 16×20 inches.
If you want something a little simpler for the walls in your nursery check out these prints featuring different guitar silhouettes. They have sort of a modern feel to them and go great with a rock 'n' roll theme as well as any music theme.
You can choose from different sizes for the prints as they will be printed for you and mailed to your home. If you want the prints in a different color you can also request that as well.
Rock "N" Roll Themed Nursery Wall Decals
Wall decals are a great way to decorate the walls in your baby's room because you can find them for rather cheap and they won't damage the walls. This is nice for someone who may be renting and doesn't want to put holes in the wall or you simply just want something easy that looks like you painted it on but you didn't have to lift a paintbrush.
This wall decal set comes with 25 different rock and roll themed decals. You get everything from a stop sign that says "Rock" to a hear with wings that reads "rock on." They range in size from a little over 1.5″ to approximately 9″.
The decals are simple peel and stick and they are able to be repositioned. They won't leave damage on the wall and also won't leave that sticky glue residue like some decals do.
These are made by RoomMates, who is a very popular company for quality wall decals and you can't beat the price considering they cost less than $15 for all the decals.
This guitar wall decal would be great up on the wall above the changing table or even a wall all by itself.
This decal is also made by RoomMates and is repositionable and won't cause any damage.
Along with the big guitar wall decal seen above there are also a few smaller rock and roll themed decals such as a star and a peace sign.
More Rock and Roll Nursery Decor
Here are even more decor ideas for your rock and roll themed nursery.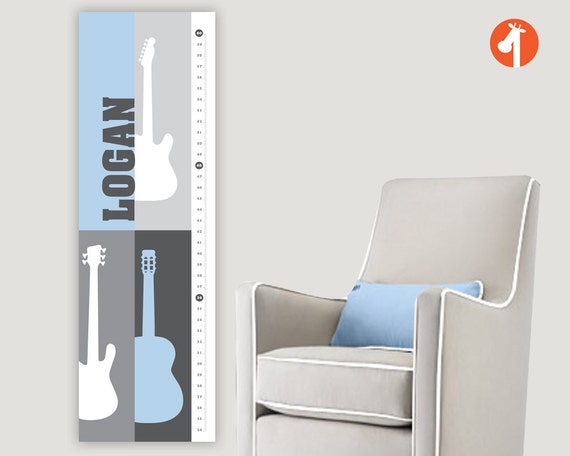 Guitar Wall Growth ChartCheck Price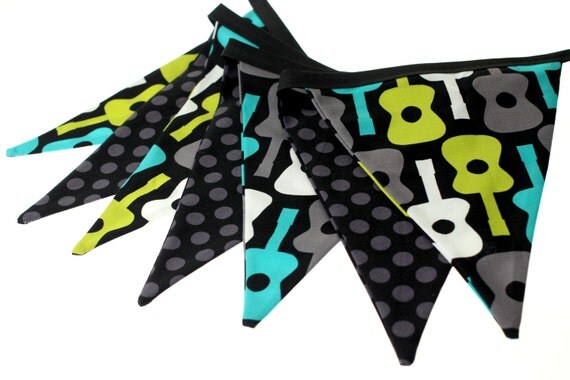 Guitar Fabric Pennant BuntingCheck Price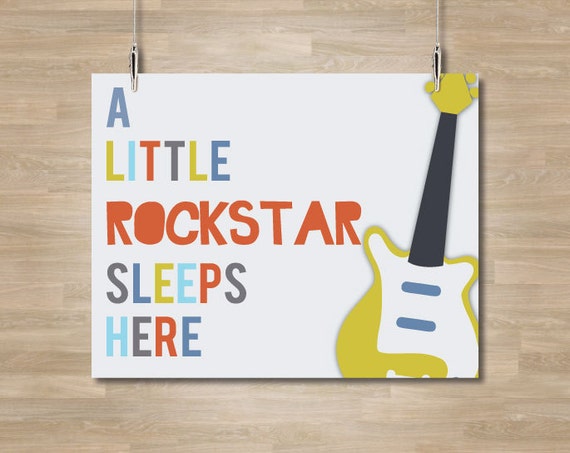 Little Rockstar Sleeps Here SignCheck Price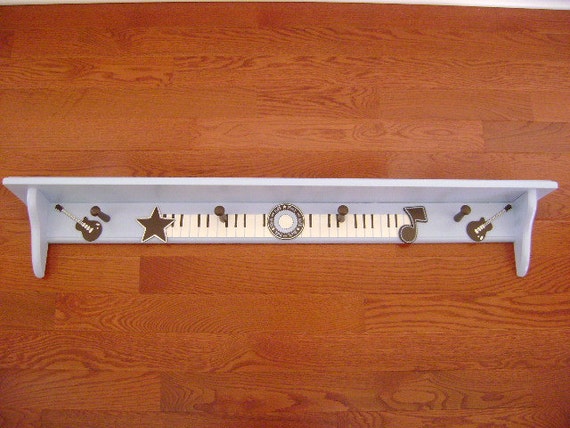 Hand Painted Wood Rock 'N' Roll ShelfCheck Price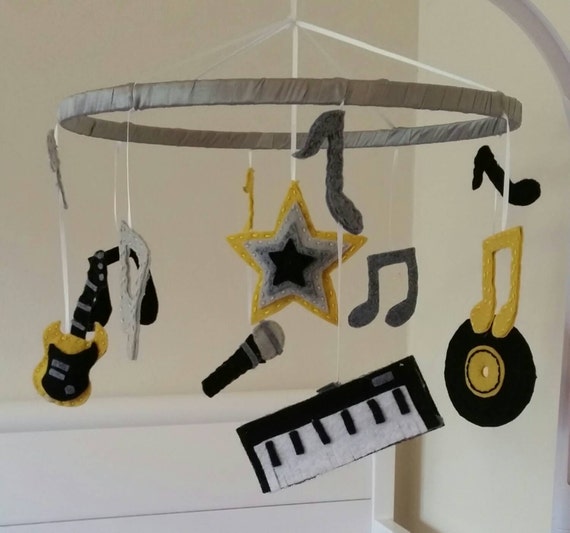 Rock and Roll Crib MobileCheck Price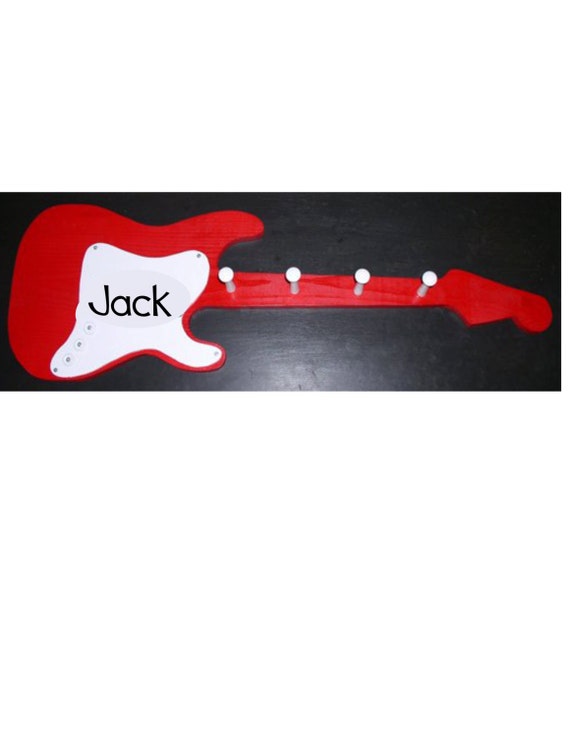 Guitar Clothing Peg Rack (personalized)Check Price
There really are some cool and unique ways that you can decorate a rock and roll themed nursery. And of course you can always go with a certain rock band that is your favorite and include decor from that as well.
And of course don't forget to take a look at all the neat rock 'n' roll crib bedding sets to go along with all the decor as well.