If you are into the punk rockabilly style then you may be interested in a punk rockabilly themed nursery for your little baby boy or girl.
This actually covers quite a range of style from creative tattoo designs to skulls and bright colors. I decided to include the different styles into one post because a lot of them have crossovers into the other type of style.
You'll be surprised at just how adorable and unique these crib bedding sets are for your baby.
Tattoo Print Minky Fabric Baby Blanket
This tattoo print blanket is super soft and cuddly for a baby and has a great rockabilly style to it.
It can be used for a crib or just as a baby blanket of your on-the-go trips with your baby. You will definitely not find a baby blanket like this in any department store.
You can personalize the blanket with your baby's name on the one side. It measures 30″ x 36″ and is a nice size for a baby as well as for when your child gets older.
Custom Rockabilly Tattoo Skull Design Crib Bedding Set
This is a 4 piece crib bedding set that is custom made and can be personalized for your specific nursery.
In the set you will receive the crib skirt, crib blanket, 4 piece crib bumper set, and a throw pillow. There are also matching accessories that you can have made such as a changing pad cover, toy bag, diaper stacker, crib mobile, and much more.
You can also choose if you only want the one print in the set or you can add in another print to go with it as well.
Rockabilly Punk Skulls and Roses Baby Bedding Set
The picture above shows the different fabrics that will be used to make the crib bedding set as the actual set will not be made until you order it.
This is another 4 piece baby bedding set that includes a crib skirt, crib blanket, bumper pads, and a throw pillow. The set is the same style as the one featured right above.
You can choose the to have all the fabrics used in the set or just the main black one with the skulls and roses. You can also choose the minky color you want for accent pieces as well.
This is a custom made bedding set so you do have to allow for ample time for the set to be made and shipped to you but it will be so worth it seeing this beautiful crib set in your little baby girl's nursery.
Here are also some more fabrics from this seller that you can choose from that fit into a perfect rockabilly themed baby's room.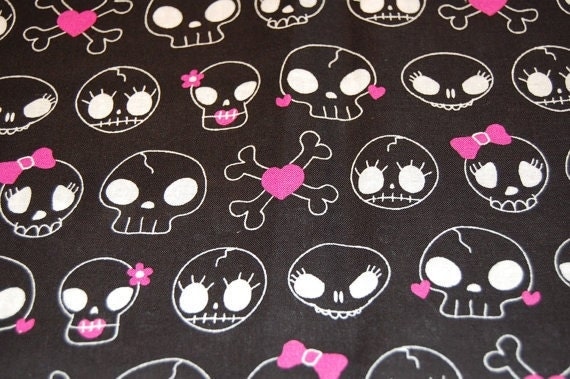 Hot Pink and Black Skull TattooBUY NOW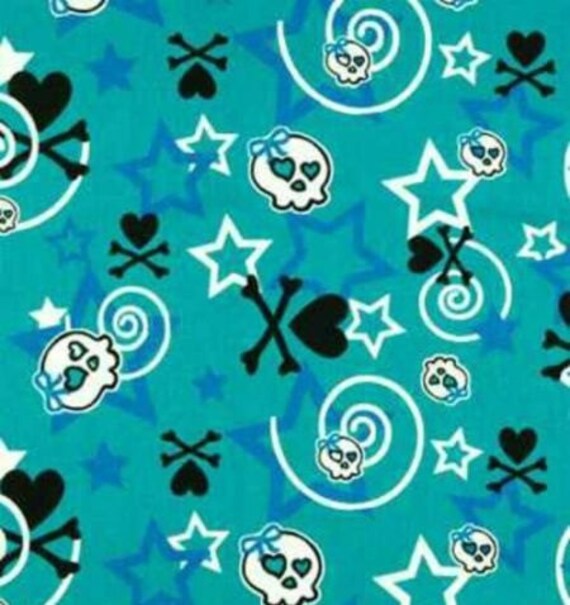 Turquoise Skulls and StarsBUY NOW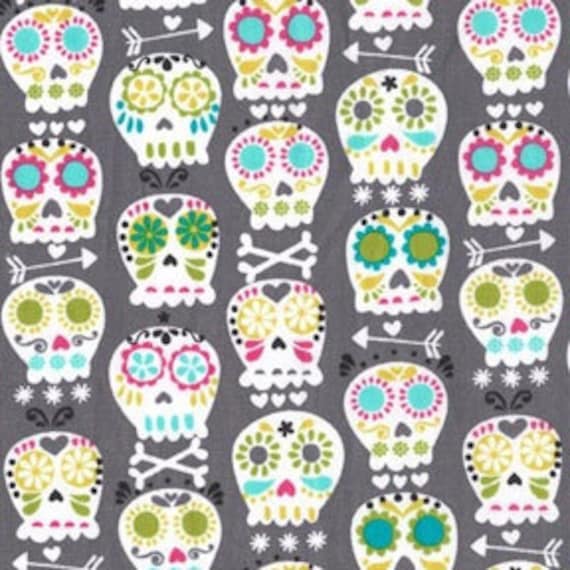 Gray Boneheads Skull DesignBUY NOW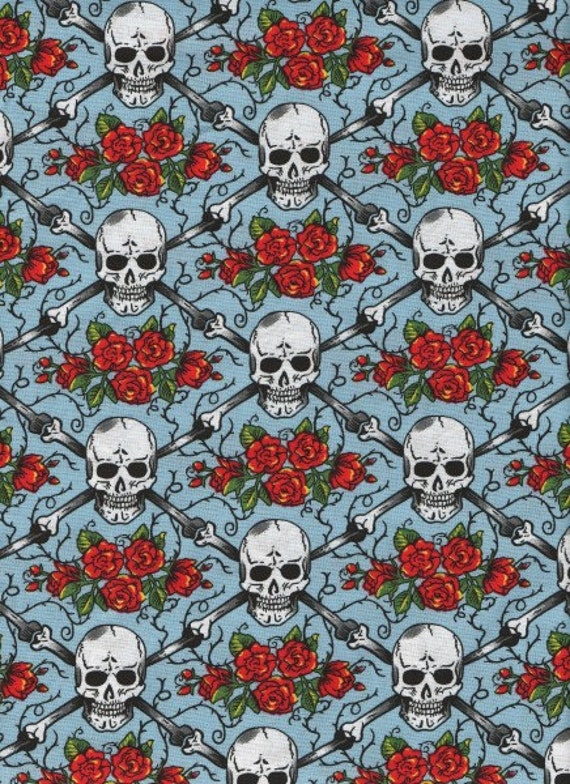 Blue Skull with Red RosesBUY NOW
You can order the custom crib bedding sets in the fabrics above or you can order the nursery accessories through a custom order as well.
Glitter Tattoo Skulls Baby Girl Blanket
How great would this baby blanket look in your little girl's nursery?
The blanket is made with a few different coordinating fabrics including the glitter skull fabric along with leopard print and flowers.
You can choose the size of your blanket starting at 30×30 inches and up to 44×60 inches.
You can also customize the fabrics if you would prefer one of them not used or add in an additional style.
Tattoo Print Rockabilly Themed Crib Bedding Set
This tattoo print crib bedding set would be perfect for both a little girl or a little boy as you can coordinate so many other colors with this fabric pattern to make the nursery you want for your baby.
This order can be customized in that you can choose which minky print fabric you want to go along with the tattoo print. There are over 25 different colors to choose from.
This is a 4 piece crib bedding set that is custom made. It includes the crib skirt, crib sized blanket, bumper pads, and a throw pillow.
This is really one of the iconic rockabilly crib bedding sets that I have seen and you can do so much with it.
Rockabilly Style Skulls and Hearts Baby Blanket
If you want to save some money and keep your baby's crib bedding more on the simple side, check out this baby blanket and then you can go with solid colored sheets and a dust ruffle for the crib. For example, this blanket would look awesome with gray fitted sheets with a bright red colored crib skirt.
The blanket measures 26×35 inches. The front side features the heart and skulls along with a "rock" theme with music notes and the back side is a super soft white fleece material.
This blanket also makes a great baby shower gift for anyone who loves the rockabilly style as well.
As you can see you have a lot of great options for a punk rockabilly crib bedding for your baby girl or boy.
I would recommend you check out all the cool rockabilly and punk themed baby items you can buy at Etsy.com.