To go along with the adorable pink and grey elephant baby bedding sets, I have gathered up some of the nicest pink and gray elephant themed nursery decor pieces to complete your little girl's room.
There are all kinds of great decor ideas from wall art and printables that you can use all over the room to organization pieces as well as functional decor as well.
Check out all the gray and pink elephant nursery decor ideas that you can buy to make your little girl's room absolutely perfect.
Pink and Gray Elephant Nursery Wall Art
You can find all kinds of great wall art ideas for this nursery theme. This color scheme is really quite popular nowadays for little girls so it's not hard to find items in these colors. Best of all there are some really nice pieces that fit perfectly with the elephant theme as well.
Pink and Gray Chevron Print Elephant Themed Wall Art Set
This is a set of 4 wood panels that each have their own unique design. There are two that have a pink chevron background with an adorable gray elephant on it and then there is one that features the ABC's and the other has the a popular saying about little girls.
Each one measures 8 x 10 inches and they can be hung up together as shown or you can spread them out across different areas in the room. They come ready to hang with a sawtooth hanger on the back.
This is an instant download that you can print yourself and then frame or mat in anyway that you want. The background of the print has a pink and white chevron pattern and their is a cute little elephant with a heart at the bottom of the print.
Instant downloads that you can print yourself can be a nice way to save some money on shipping and you can pick up your own inexpensive frame to go with it.
This is another great wall art set featuring pink and gray colors with an elephant theme. It comes with 3 separate art pieces that are mounted on MDF wood and are ready to hang on the wall.
This is a set of 3 great prints that come unframed but you can choose what size you want them printed as. There are two elephant themed prints and then there is one that has a bunch of little girl sayings in themes in gray and pint colors.
If you are looking for a personalized art piece for your little girl's room check out this very cute 3 piece set that not only features two adorable elephant prints but also comes with one that can be personalized for your daughter.  You can also choose what size you want the prints such as a 5 x 7, 8 x 10, or a 11 x 14.
Pink and Gray Elephant Wall Decals
Decal are a great way to decorate a room since they are rather inexpensive and you don't have to worry about damaging the walls or putting holes in the walls.
Decals can work for decorating above the crib or changing table or you can use them on an empty wall to make a mural or design of your own.
Here are some gray and pink elephant themed wall decals for a nursery.
Pink and Gray Elephant with Tree Wall DecalsBUY NOW
Pink and Gray Elephant with Balloons Wall DecalsBUY NOW
Pink and Gray Elephant Crib Mobile
Although you don't necessarily need a crib mobile for your baby's room they do make a really cute addition and can really pull together your theme of your room with your crib.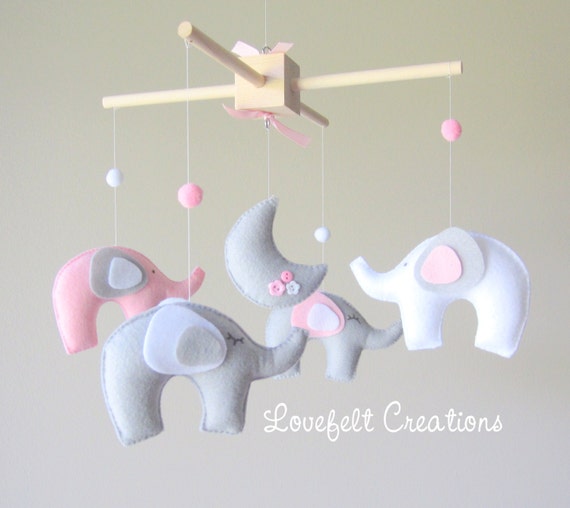 Pink and Gray Elephant MobileBUY NOW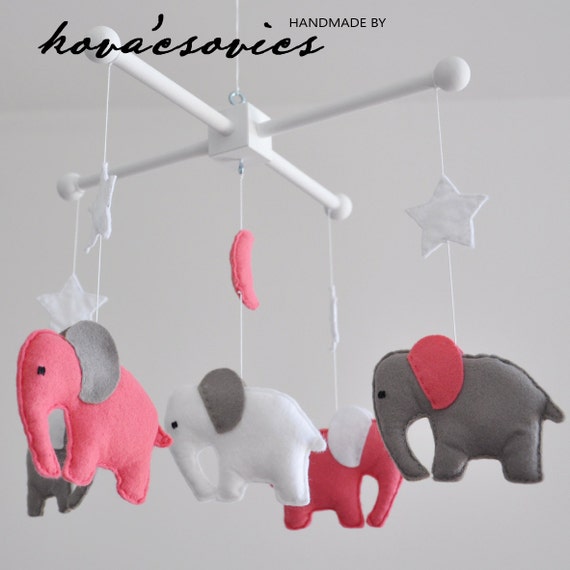 Bright Pink and Grey Elephant MobileBUY NOW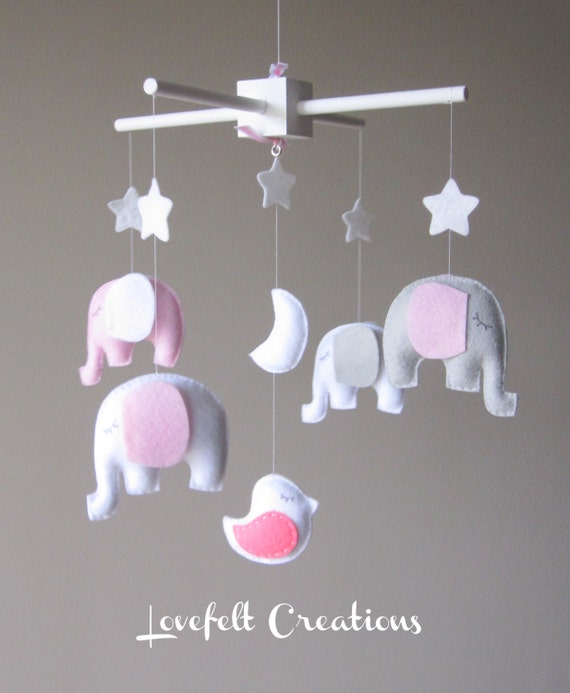 Pink and Gray Elephant with Stars MobileBUY NOW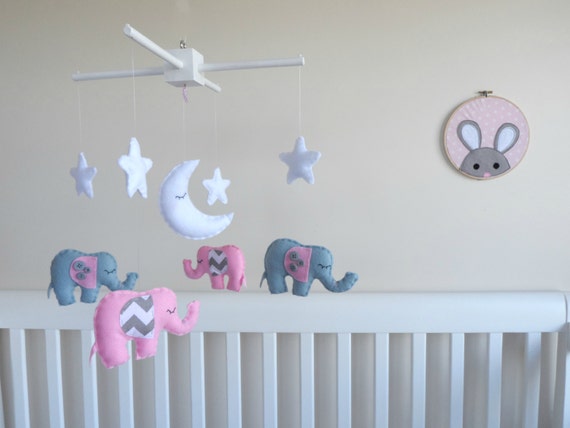 Felt Pink and Gray Elephant Crib MobileBUY NOW
More Pink and Gray Elephant Nursery Decor
Here are some more great ideas for decorating your pink and gray elephant themed nursery for your little girl.
This pillow isn't just any old pillow. It not only acts as a really cute decor piece up on a shelf or dresser for the room but can also be a toy or lovey for your baby when they get older.
The pillow is in the shape of a little elephant and is made with grey and and white patterned fabric with pink minky dot fabric accents.  It measures approximately 9 x 13 inches.
Although your baby may not need a toy chest right away, this gray and pink elephant chest is not only perfect for toys but also works great for baby items such as blankets and extra diapers or wipes you may need to store as well. As your baby gets older you can start storing her toys in it or use it for clothes even.
The chest measures 31″ x 16″ x 22″ including the top header. This chest is great for kids as it does have a child safety hinge to protect your little one and there is a vent in the front to allow air to get into the chest.
You are going to need a nice hamper for all those dirty baby clothes you are going to have. This hamper fits in perfect with this nursery theme with the grey sides and the striped front with the pink elephant. It even has a top cover that has a white and pink polka dot pattern.
It has a wood frame so it is a sturdy hamper and the actual hamper part is 100 percent cotton. It's a nice size that won't be too big but will fit plenty of clothes as your child gets older as well.
Here are even more pink and gray elephant nursery decor pieces that you may love as well.
Gray Elephant with Pink Dot Background Round ClockBUY NOW
Pink Elephant Personalized Nursery Wall ClockBUY NOW
Mini Elephants Changing Pad CoverBUY NOW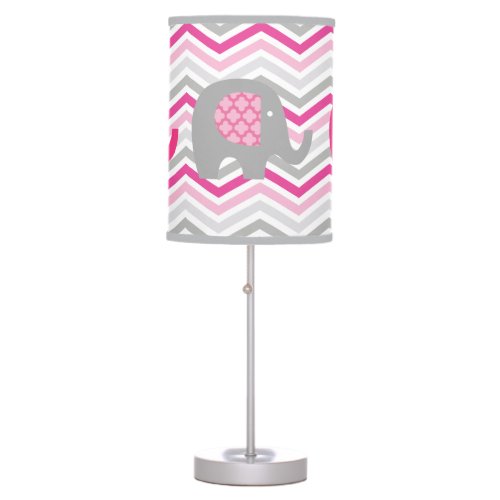 Gray and Pink Elephants Chevron Table LampBUY NOW
Mini Pink/Gray Elephants Curtain PanelBUY NOW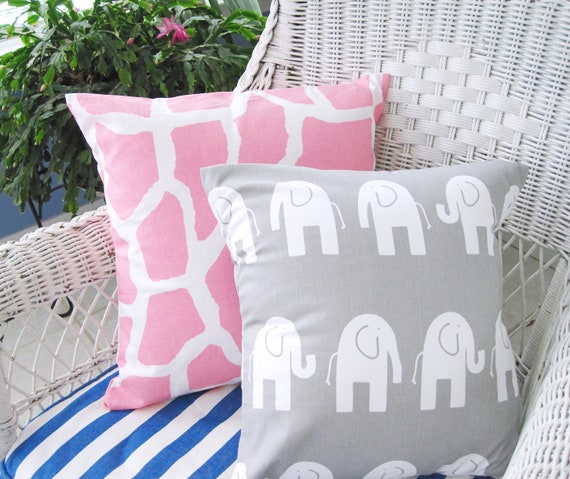 Pillow Covers – Pink Pattern and Gray ElephantBUY NOW
There really are so many great decor pieces for a pink and grey elephant nursery. There are abundant art pieces that you can choose from and other great items from a hamper to a clock on the wall.
Don't forget to check out the pink and gray crib bedding sets if you haven't decided on your the bedding yet as well.