A personalized birth announcement stuffed animal makes a wonderful keepsake as well as a cute decoration for a baby's nursery.
You can buy a stuffed animal for your child that matches their nursery theme and can also become their favorite stuffy when growing up. These personalized stuffed animals for babies also make great "welcome to the world" gifts for when you stop by and get to see the little guy or gal for the first time.
These personalized baby stuffed animals also work perfect for those once a month pictures that parents take of their child. You can have this special item to compare just how fast your little one is growing up each month for the first year of their life.
One of the most popular types of these animals tends to be the birth announcement elephant with it's big floppy ears but there are all kinds of cute stuffed animals to choose from.
Be sure to check out all the choices below to see which birth info stuffed animal may be your favorite.
Baby Announcement Stuffed Animal Ideas
Birth Announcement Stuffed Elephant
This is probably one of the best selling and most popular personalized stuffed animal for babies.
With it's big, round ears this elephant is able to read the child's name as well as birthday, time of birth, weight, and length.
All of the birth stat information is machine embroidered right onto the item with your choice of color thread as well as your choice of font. You can also choose from the color of the plush elephant so that it matches your baby's nursery or just pick one of your favorite colors for the gift.
The personalized elephant stands over a foot tall and is approximately 14 inches from one ear to the other.
This would be perfect for a Baptism gift as well as you can even change around the birth stat information on the one ear and include the date of their Baptism instead.
There is another option for a birth information stuffed elephant as well that doesn't have the stats and name on the ears but instead on the belly of the animal.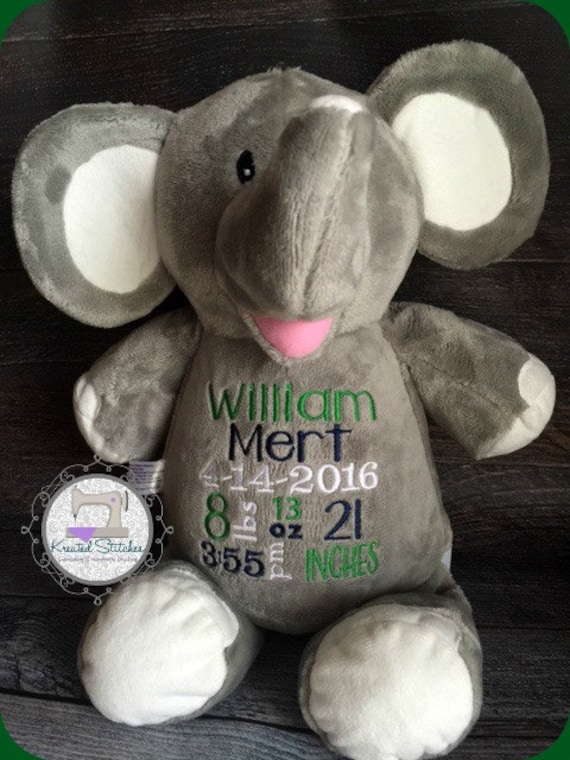 Check Price
As you can see this one is just as cute as the one above but it just gives a different option for personalizing the stuffy.
With this item you can customize the belly of the elephant with the child's name as well as birth statistics including the day of birth, the time of birth, and length and weight when born.
You can definitely personalize this piece with your own preferences if you would rather just the name or even a saying or quote you want instead.
Pick from several different color threads to match your the child's room or pick a color scheme that you like.
It measures approximately 12 inches in the sitting position and is the perfect size for a snuggling buddy for a toddler or young child.
More Personalized Stuffed Animals For Newborn Babies
Of course there are more than just elephants to choose from when it comes to choosing a birth announcement stuffed animal.
Choose from other stuffies including a monkey, duck, teddy bear, owl, and more. Here are just some of the adorable personalized plush animals that you can choose from as a special gift to the newborn baby in your life.
 Check Price Check Price Check Price
Or check out this shop at Etsy.com as she offers just about any type of plush animal that you can have embroidered with your child's birth stats.
Here are just some of the custom stuffed animals that she offers. All of them can be customized with your baby's birth info or just a name or other message as well.
 Check Price Check Price Check Price
There are so many great options for these personalized baby gifts whether you are buying it for your own child or giving it as a gift for a loved one. And of course remember that most of the items you see above can also be changed and customized if you would rather just have a name or monogram on the animal instead, making them a great gift for older babies and children as well.
These are one of the special baby gifts that can last years and years as a wonderful keepsake and most likely will never be forgotten. You may just find the birth announcement stuffed animal turns into the child's favorite stuffy to take with them wherever they may go.